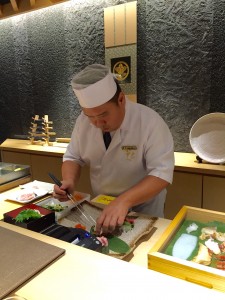 If you are a Sushi lover like me, Hanaya is the restaurant to book for your visit to Kuala Lumpur! We were seated in the bar and the chefs prepared our sushi right in front of us. This was amazing too see up close but it really made me super nervous that the chefs saw me eating. You always hear about how we eat sushi the wrong way in west mixing the wasabi in the soy sauce, holding the chopsticks wrong and all that!
We were lucky enough to come here early when the restaurant was not busy and were actually the only guests for most of our dinner. Two private sushi chefs, that is luxury! This also meant that the chefs had time to chat, answer all our questions and give us a crash course in how to make wasabi paste from the wasabi root.
Sushi Train is an Australian company that runs Hanaya and a few more sushi restaurants i KL including Ten and Senya, I'm sure they are just as great. Visit the website here.