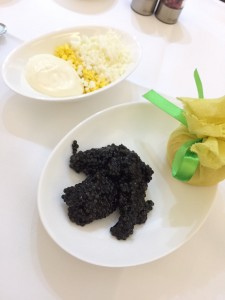 The Lufthansa First Class is by far my best flight experience, I traveled with the Airbus 340-600  from Hong Kong to Munich and I enjoyed every second of the flight. Since we were only four passengers i first class on this flight the two flight attendants had plenty of time to attend to each one of us to provide attentive and personal service through out the flight. After getting settled in at my seat I was served a pre-departure glass of Taittinger champagne.
Food service had a nice selection of dishes with the highlight being the Caviar serving. First Class passengers can enjoy a selection of wines handpicked by Sommelier World Champion  Markus Del Monego.
I never got a chance to try the IFE but there is a 17 inch screen and noise cancelling headset provided.
After dinner I changed into the pyjamas provided, super soft grey trousers and a white top for women. When returning to my seat the flight attendant had turned my seat into a full-flat two meters bed with mattress, duvet and pillow. I slept like a baby for the rest of the flight!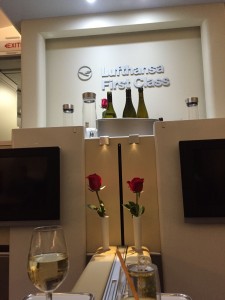 All photos by Selected Travel