Royal Silk, Thai Airways branding for business class, is everything you can expect of a business class experience with great tasting and flavourful food, champagne and great service provided by the attentive staff.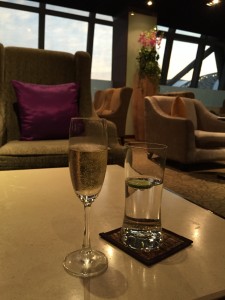 On this occasion we flew Thai Airways from Frankfurt to KL via Bangkok.
The Royal Silk Lounge is big and spacious with a nice selection of food and drinks but for me personally, the best part of travelling with Thai airways through Bangkok is the Royal Orchid Spa located in close proximity to the Royal Silk Lounge. At the Royal Orchid Spa you can chose between a complementary 30 min neck and shoulder or foot massage. After a ten hour or so flight, this is just what my bode craves! The spa operates by a first come first serve basis but has never been crowded on the times I've visited. For Royal First passengers the staff in the Royal First Lounge will make an appointment for you at the time you wish.