Situated on the top 103rd to 118th floors of the ICC building, The Ritz-Carlton offers spectacular views over Hong Kong Island and Victoria Harbour and will always be my first choice of hotel when visiting Hong Kong.
Restaurants & bars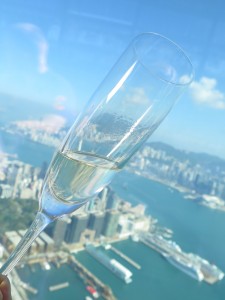 The Ritz-Carlton offers various first class dining experiences within the hotel including the two Michelin star restaurant Tin Lung Heen, serving authentic Cantonese cuisine, the one Michelin star restaurant Tosca serving Italian hand made pasta and the highest bar in the world, the Ozone sky bar.
You can read about my brunch at Tosca and the best raviolis I've ever had here.
If you're not staying in the hotel you should definitely visit Ozone and enjoy a glass of champagne on the top floor of Hong Kong's tallest building. Read about my visit here.
Swimming pool & fitness centre
It is a unique experience to take a swim in the indoor swimming pool on the 118th floor, on my visit the sun had set and I could see all the thousands of lights through the floor-to-ceiling windows. The surreal feeling was added on to by the LED screens on the back end wall and ceiling. I'm guessing now, but this must be the highest indoor swimming pool in the world?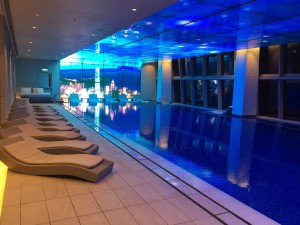 All photos by Selected Travel
After trying out a few of the gourmet restaurants and within the hotel and around Hong Kong, a session on the treadmill was exactly what my body needed. The fitness centre shares the 118th floor with the swimming pool and Ozone bar. Have you ever seen a better view from a treadmill?!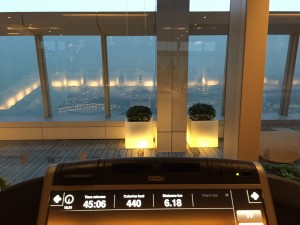 A nice final touch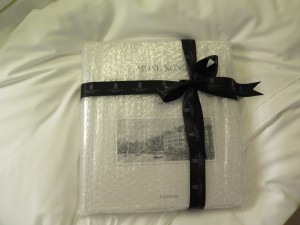 Service at The Ritz-Carlton is of course impeccable, the staff is friendly and helpful and will go out of their way to make your stay as comfortable as it possible can be. An especially nice touch was when I in the end of my stay asked the concierge if they had the Hong Kong history coffee table book in the room for sale in the lobby. Since they had sold the last copy, they offered me the copy in my room as a complementary gift. They even wrapped it in bubble wrap. A great memory of my stay at The Ritz-Carlton.